Building your future at
Development Engineering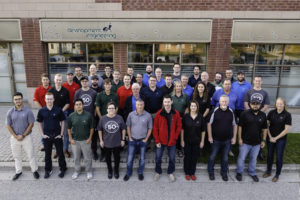 Career Opportunities
At Development Engineering, recruiting and retaining the best talent in our field is a never-ending quest.
Our success depends on the efforts of highly motivated professionals who will help us to continually improve what we do and how we do it. Our dynamic work environment offers the right support and creativity for engineers and technologists to express their entrepreneurial spirit and to flourish with it.
We offer to eligible employees a benefits package as well as an Employee Share Ownership Plan (ESOP). This encourages accountability and creativity at every level of our organization. The benefits of ESOP to employees include a share in the success of the company, representation of worth to the company, potential for tax savings upon share disposal, and job satisfaction and pride of ownership.
We welcome and encourage applications from individuals from all backgrounds, including those with disabilities. Accommodations are available on request for candidates taking part in all aspects of the selection process.
Explore the employment opportunities below and see how our vision of leadership, values, career planning and quality of life encourage the personal and professional growth of all members of our team.
Why DevEng:
Competitive hourly rate – you get paid for every hour that you work!
Employer-paid Group Benefit Plan that includes health, dental, vision, paramedical and disability insurances!
RRSP matching up to 6%!
Flexible and fun work environment with company events!
Opportunities for training and development!
Contact us at deveng@deveng.net for further information.